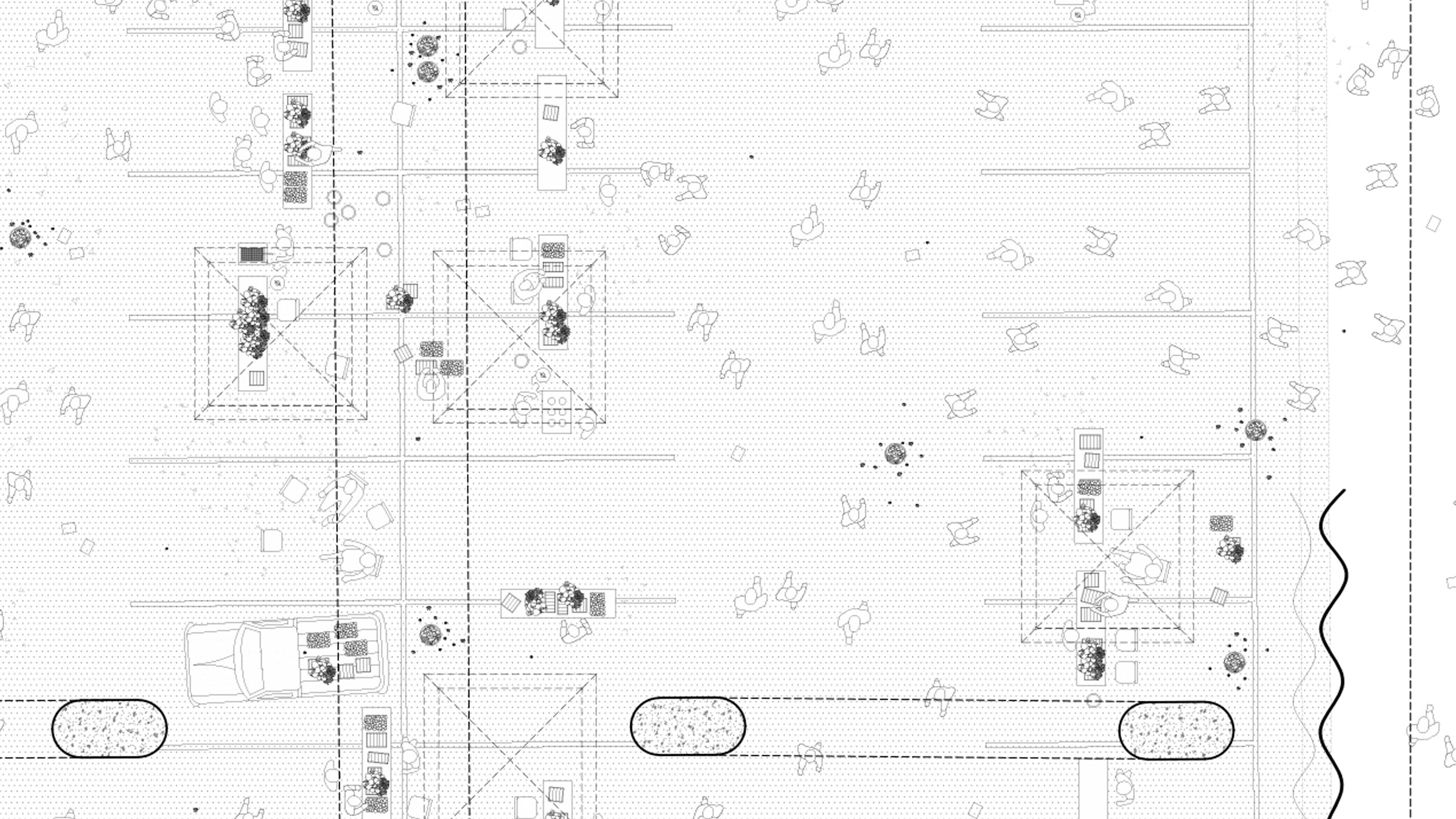 Portland Proscenium
DRAMA, PRAGMATISM AND THE PROMISE OF I-405.
"As I was walking that ribbon of highway,
I saw above me that endless skyway:
I saw below me that golden valley:
This land was made for you and me."
Woody Guthrie, This Land is Your Land, 1945.
Though easy to dismiss as a cold, brutal, and underused resource, we prefer to see the underside of I-405 as a near-great architectural asset. Virtually thirty feet in height, capped by a concrete ceiling, and lit with a crack of natural light, the space is almost heroic. Its current status as an active weekday parking lot only partially taps its potential as a versatile urban room. What is needed here is a strategy of relatively simple aesthetic
improvements and programmatic rethinking that will leverage the highway's existing formal and functional features in order to transform its underbelly into a dynamic public hall.
Using multiple layers of full-height sheer and acoustical blackout curtains hung from I-405's edge, our proposal looks to elegantly wrap and emphatically claim the void underneath. The sliding drapes manipulate light, views, and sound while providing a strong visual identity from the interior and exterior. Conserving the current weekday parking function in this new enclosure is important as it maintains a useful resource for those who work in the Pearl District and the NW Alphabet neighborhood. Upgrading the existing ground surface with a polished concrete finish – in conjunction with the curtains – elevates the everyday act of car storage into a ritual less ordinary. Moreover, on weeknights and weekends when empty of cars, the revamped floor plane serves as a large, flat, flexible urban stage for other activities. The stage, together with the drapes, can be configured to achieve a range of atmospheres and support a variety of programs. Nightclub, restaurant, market, soup kitchen, church, and theater can pop in and out to serve as temporal local amenities.
Years of ignoring the latent opportunities on this site has condemned I-405 to be perceived as an urban mistake – an infrastructure that ruthlessly divides cities and neighborhoods. Yet this notion can be reversed by recognizing that a ribbon of concrete designed to move cars can be just as productive and dynamic below as it is above. Harnessing its inherent strengths, both spatially and programmatically, will help finally fulfill the architectural promise of the interstate as more than just a vehicle-mover, but also a dramatic civic venue for people.
Project Specs:
Architect: Office of Architecture; Team: Aniket Shahane, Principal; Ivan Kostic, Valentin Bansac